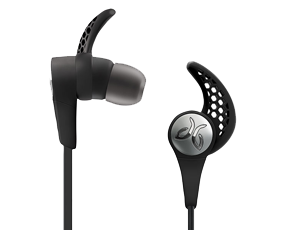 Jaybird is a promising tech and electronics brand so if you have to buy from them – you surely will be satisfied with the choice you make! It hasn't been long since this company announced the Jaybird X3 release in the global tech world. This new x3 model has replaced the previous x2 version of the same headphone and is definitely a worthy choice you can make. It is being dubbed as the ultimate sporty and athletic headphones that you can get your hands on and there are many reasons why this is the case! In this jaybird x3 review, we talk about everything that you should know about this product before you finally buy it.
The one thing that you should be fully prepared for when buying the amazing headphone pair is that it has nothing sub-standard or ordinary to offer. The makers have designed this headset to be a class apart and so it is; in functionality and its performance. If you have a checklist ready from where you would be ticking off all the important factors about this product; then you should be prepared to tick almost all the boxes for the Jaybird x3 because it is certainly worthy of all the attention and praise it has been gathering ever since its release in the global markets.
Product Specifications
This headphone comes with a very strong and solid exterior body.
The exterior body of the headset is constructed of supreme quality materials that are water resistant and heat resistant. This makes the product durable.
It comes with an inbuilt superlative bluetooth of version 4.1. This bluetooth works great for a stable connection.
This headphone has an internally embedded microphone that is built-in for active communication.
It promises a comfortable and customized fit that is secure over the ear.
The battery life for this headphone is only average and works up to 8 hours on constant usage.
This headphone is connectable with two devices at the same time.
Features and Design
In comparison to other products by Jaybird, this X3 model certainly delivers and comes with enhanced features and performance as well. When we compare jaybird freedom VS x3 we see that the x3 headphone is not only superior in looks but the functionality is dramatically better as well. The first thing that we need to mention right away fit the light weight of the headphone which makes it wearable for hours and hours on end without feeling any strain or pressure on your head. This is why the Jaybird x3 sports bluetooth headphones are considered the perfect athletic headphones for all sports enthusiast and fitness freaks. The drivers of the headphones are inbuilt and designed to manage the sound output in a better way. The sound quality is the one thing that is surely not compromised on with this headphone. In fact, it comes with a solid bass and treble that is not only very well-balanced but also provides a very powerful sound throw.Get more details about best wireless headphones here.
Pros
The x3 version of Jaybird is definitely better than all other versions by Jaybird and this we say with authentic proof! There is a long list of advantages that this headphone promises for its users so let's take a quick look at the top ones!
The Jaybird x3 microphone is inbuilt in the headphone and is designed to work supremely. The result is seamless and promising and the inbuilt MIC facilitates very smooth and hassles free interaction for the users.
The sound quality is best and like no other previous headphones by jaybird. The sound quality is well-balanced and very powerful.
The body of the headphones is designed to be very strong and powerful. The quality materials that are used for the construction of this headphone definitely add to the long-term durability and strength of these headphones.
The battery life for these headphones is very promising. The battery for this headphone actually works up to 8 hours of constant use and this is not bad! Though you might find better on constant usage, this is definitely a good factor!
The headphones have been made sure to be lightweight and compact in size. This increases the portability and usability of the product. The lightweight body of the headphone definitely makes it possible for the users to wear it for hours on end.
The high quality materials that are used to make these headphones definitely give it a lot of value and worth.
The audio quality for this model has been drastically been improved then all previous models. The sound output is now promising and supremely better multiple times.
The price range is the biggest highlight benefit for the x3 headphones. You would certainly expect the price for these headphones to be much higher than what you normally anticipate for such a headphone to be. It is surprisingly very reasonably priced.
Cons
For a headphone that is positively trending very high these days, it is most likely that the users will end up believing that there are no flaws that are associated with this product. This, however, is not the case. Like any other product, there are definitely a few letdowns that this headphone brings with it.
It fixes very well into the ear for the first days but after a few weeks, you will notice that it is not as firmly fit into the ear as it used to be. It tends to loosen up over time.
The sound output is through exceptional but the overall voice call quality is not as amazing as it could be. We have definitely seen well!
The warranty for the product is very short lived; with some dealers offering up to 6 months warranty whilst others offering 1-year
Final Word
All in all, it is definitely not wrong to say that this headphone is a great one that has hit the tech markets after a very long time! The smooth sound output and attractive body of headphones all make it simply worth it! This headset surely gets a thumb up from us!